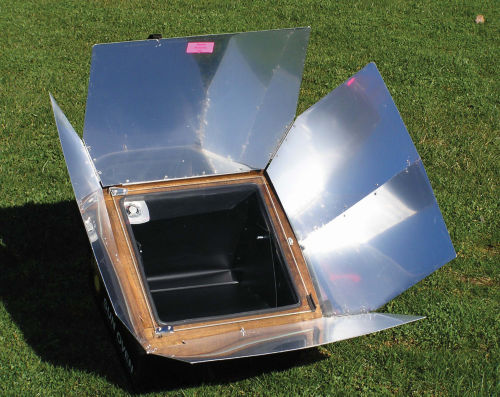 This is a sun oven.
It's for "camping" which I think we all know is code for "Armageddon." I can't help but look at something like this and think how handy it would be in the End of Days. I'm not that skilled at cooking over an open fire, but I could do brownies in this.
I think we should get one, just to be on the safe side. Also a desalinization thingy, a biodiesel still and some solar chargers for our cell phones. We could store them next to the 5 gallon drums of rice and beans. We will be prepared. We will be ready. We will be....well honestly, we'll still be the gigantic sissies we are now and will probably have to hand over all our stuff to the first 12 year old hoodlum who comes our way when civilization hits the skids.
I don't know the first thing about the Rapture, but I suspect it was thought up by someone who was about to buy a sun oven. Someone who didn't like the idea of protecting it with a sawed-off shotgun. Someone who knew she probably wouldn't make it if she had to plant land mines around her chicken coop.
I didn't think about things like this before Sugarplum was born. Within months of her birth, however, I was figuring out how we'd survive once the grid crashed. I thought about how I'd have to break into the library to steal a book about cleaning fish. I made elaborate plans for moving into an underground house like Peter Pan. It all got very complicated.
It would be so much easier if we could just be sucked up into heaven like a Polly Pocket in a shop vac.
Assuming the kids haven't sent Polly Pocket to the "spa" and melted her in the sun oven.
--
I've added a couple of the comments left on my facebook page. They made me laugh.